Lacey Schnurpel
Lacey joined the Chase Center staff in 2003 and offers both experience and attention to details in her services as administrator.
Candice Collins
Human Resources Coordinator since 2002, feel free to contact Candice at 574-753-4137 to submit a resume and complete an application for employment.
John Eller
Maintaining Chase Center since 2007, John Eller brings comfort and peace of mind, knowing everything is kept in working order and is secure. John and…
Kayla Chapman
Director of Staff Development/Infection Preventionist since 2010, Kayla Chapman brings compassion and expert care to her post. Chase Center's skilled nurses carefully follow your physician's…
Professional Care, Hoosier Hospitality
Chase Center Rehabilitation and Nursing Services is a family operated business. We will go out of our way to ensure our family provides the best care for your family.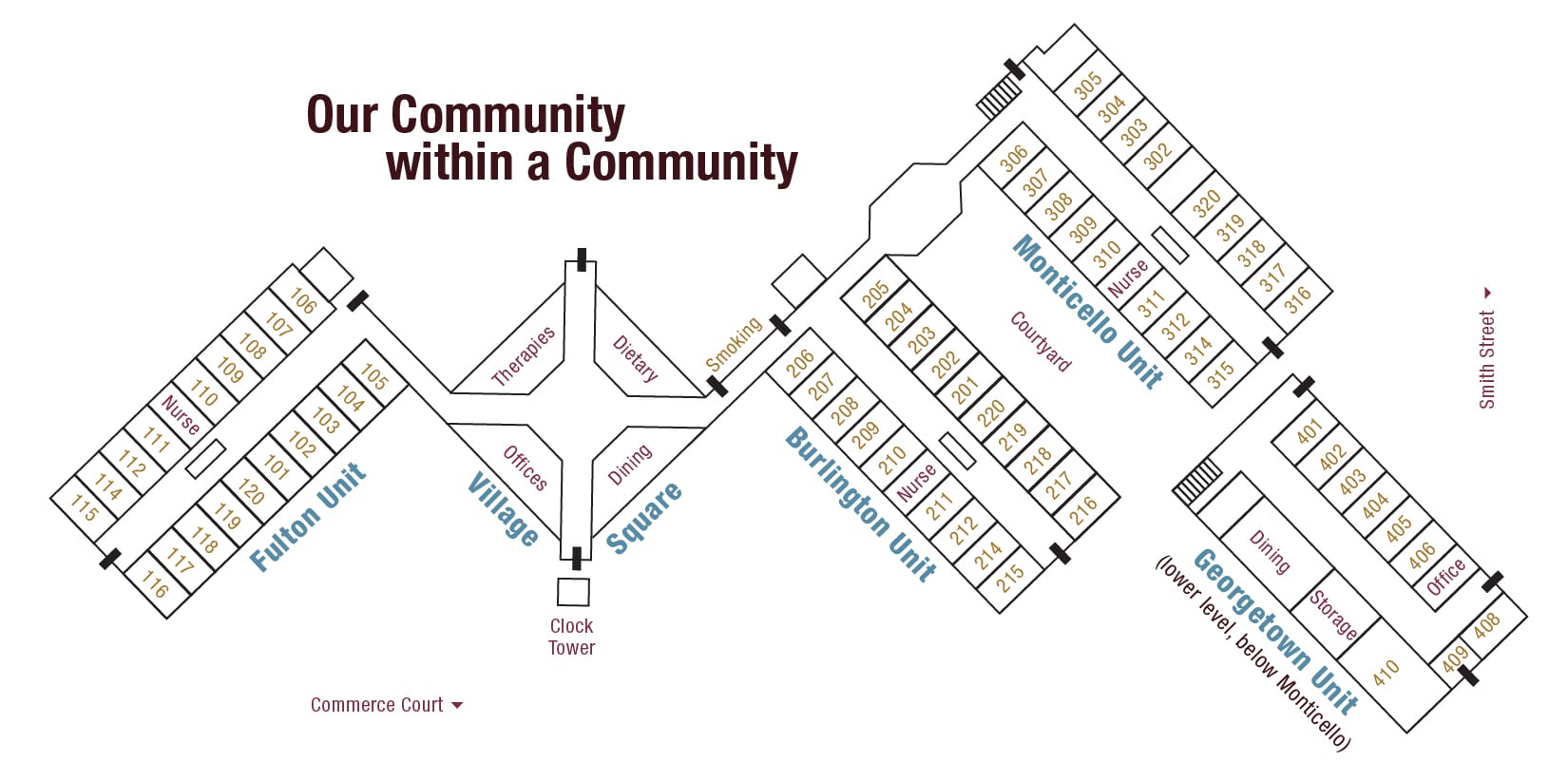 Locally Managed, Involved
Chase Center takes pride in nearly 50 years of management by the same family, our Logansport roots and commitment to our community. We are Indiana-owned and locally operated.
Locally Managed, Involved
Chase Center is near the intersection of Michigan Road (State Road 25) and Chase Road. Our property was once part of the Chase Family Farm, a longtime agribusiness in our community.
We are conveniently located near Fresenius Dialysis Center and just seconds away from Logansport Memorial Hospital.
Our campus is easily accessed from all directions, including travel on the Hoosier Heartland Corridor. That makes it easy for friends and family to visit.
Community within a Community
From the clock tower at our entrance to our spacious Village Square as you enter—and hear the birds singing in the aviary—you'll find Chase Center feels like home.
Our residents, up to 101 at any given time, live in what we call neighborhoods. And they're named for nearby locales—Fulton, Burlington and Monticello. Hoosier familiarity is just one of the nice touches.
A courtyard provides a relaxing outdoor setting, a chapel offers spiritual respite, and community rooms give residents a place to gather socially.
Quality standards

Our manner of care, attention to our residents and local touches reflect our community's appreciation of Logansport's rich heritage, seen in the hand-carved carousel at Spencer Park.
---
---
Prevention, Education & Wellness
---
---
Contact Us
Chase Center
2 Chase Park
Logansport, IN 46947
(574) 753-4137
---
 Follow Us