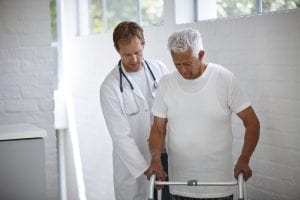 Chase Center's skilled nurses carefully follow your physician's instructions, administering care orders, monitoring your health and assuring that the care needed is provided. Care plans are updated regularly, to accommodate your changing needs. Skilled nurses are onsite 24 hours a day.
Services Include Care For:
(other services provided, may not be listed below)
Pain Management
Orthopedic conditions
Dialysis Care
Complex Wound Care
Amputation Recovery
Post-surgical recovery
Stroke Rehabilitation
Intravenous Therapy
Diabetes Management
Balance Management
Neurological/neuromuscular disorders
Memory Loss
Tracheotomy Care
Multiple Trauma
Many residents come to Chase Center for a short stay following an injury, illness or acute hospital stay, while others require ongoing long-term care and support. Whether short or long-term care is needed, our team provides quality, individualized care 24 hours a day. A comprehensive care plan is individualized and designed to outline the needs and goals of care for each resident. This care plan is updated on a regular basis and updated regularly to meet the individual needs of each resident.
At Chase Center, we have a group of compassionate caring staff who go above and beyond for each of our residents and many of our residents are much more than residents, they are part of our Chase Center family and we are proud to be serving them each day.
Career Opportunities:
Apply Now!
---
---
---
---
Prevention, Education & Wellness
---
---
Contact Us
Chase Center
2 Chase Park
Logansport, IN 46947
(574) 753-4137
---
 Follow Us